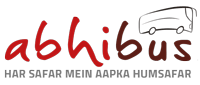 Go Home Vote Right - Upto Rs.125 Off + Rs.1000 Cash Back using Google Pay
User should be signed in at Abhibus to avail this offer.
Use Coupon ABHIVOTE at Abhibus to get Upto Rs.100 Discount on Smiley Operators.
User will get Flat Rs.25 Off + Rs.500 cash back from Abhibus on all Bus Bookings.
Minimum booking value Rs.300
Pay with Google Pay to Earn scratch card worth Rs.50 to Rs.500
This offer is not applicable on ksrtc bookings.
Abhibus Cash Back would be credited to the abhicash account of the user, post date of the journey.
if ticket is cancelled/partially cancelled, cash back will not be credited to abhicash.
Abhicash Redemption - Redeem Flat 5% Max Rs.50 for both Private and SRTC bookings from Abhicash.
Usage conditions of promotional Abhicash may change at the discretion of Abhibus.
Abhibus reserves the right to end any or all offers at its discretion without any prior notice.
G Pay Terms
Pay with G Pay Earn scratch card worth Rs.50 to Rs.500
Minimum transaction value Rs.500
User can claim the scratch card amount 30 days after your purchase date.
This offer is applicable 3 times per user in each of these periods:
Period 1: From October 26 to November 25
Period 2: From November 26 to December 25
Period 3: From December 26 to January 25
If you earn a reward, your reward money will be deposited into your bank account. As such, you must have a UPI-enabled savings account attached to your Google Pay account to receive payment from Google.
Transactions that result in a refund or cancellation are not successfully processed and are not eligible. Any scratch card awarded based on a transaction that is not successfully processed will be removed from a Google Pay user account and/or voided.
Please be sure to link your UPI enabled savings account to your Google Pay account within 45 days of claiming the reward, failing which the reward will be deemed to be forfeited.
This offer is not available to the residents of the state of Tamil Nadu (as per Tamil Nadu Prize Scheme (Prohibition) Act 1979) and wherever else prohibited by Law. Residents of these States should not participate in this offer.