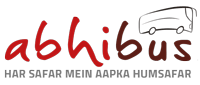 DholBaje Dussehra - 100% Cash Back Upto Rs.850 Cash Back using PayPal
User should be signed in at Abhibus to avail this offer.
Use Coupon "CHBKDSRA" at Abhibus Get 100% Upto Rs.500 Cash Back from Abhibus.
No minimum booking value
Cash Back would be credited to the abhicash account of the user, post date of the journey.
Pay with PayPal and Get Flat 50% Upto Rs.350 Instant cash back for all users from PayPal.
This offer applicable on all bus bookings except ksrtc.
if ticket is cancelled/partially cancelled, cash back will not be credited to abhicash.
Abhicash Redemption - Redeem Flat 5% Max Rs.50 for both Private and SRTC bookings from Abhicash
Usage conditions of promotional Abhicash may change at the discretion of Abhibus.
Abhibus reserves the right to end any or all offers at its discretion without any prior notice.
PayPal Terms
Pay with PayPal Get Flat 50% Upto Rs.350 Instant Cash Back.
Offer is valid one time for all users during the offer period.
Offer Period:12-Oct-18 to 21-Oct-18
Minimum Transaction value Rs.50
User will receive instant cash back into his PayPal account.
In case of cancellations, refunds or chargebacks, 100% cashback will be refunded if the offer period is still valid.
For partial cancellations, refund will be processed as per PayPal policies Under no circumstances will you be entitled to withdraw the eligible cashback amount into your bank account or otherwise ask for a cash withdrawal.
The cashback amount will be applied as a discount for your eligible purchases.
The amount cannot be credited into any pre-paid instrument issued under applicable RBI laws
This offer cannot be clubbed with any other on-going offers from PayPal or your card issuing bank In addition to the above, this offer is also subject to Abhibus general Terms of Use.